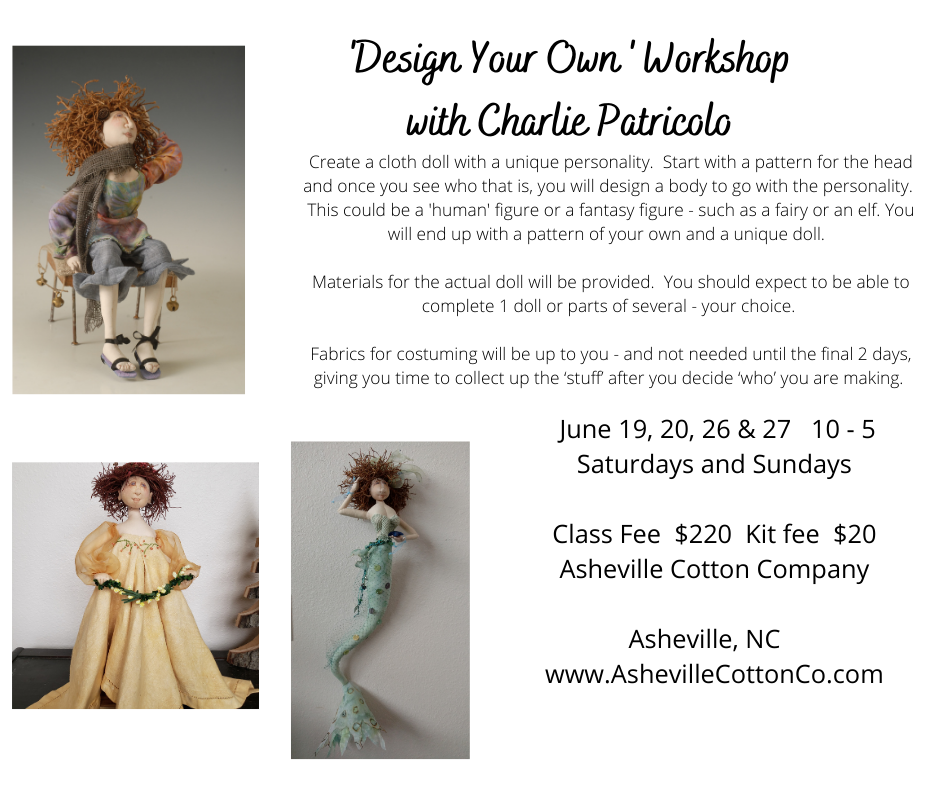 Create a cloth doll with a unique personality. Start with a pattern for the head and once you see who that is, you will design a body to go with the personality. This could be a "human" figure or a fantasy figure - such as a fairy or an elf. You will end up with a pattern of your own and a unique doll.

Materials for the actual doll will be provided. You should expect to be able to complete 1 doll or parts of several - your choice.

Fabrics for costuming will be up to you - and not needed until the final 2 days, giving you time to collect up the 'stuff' after you decide 'who' you are making.


What students need to bring to class -
* Sewing machine (or make arrangements to share), please make sure you have all of the parts including an extra bobbin and small needles. This is also a great time to use a clear plastic or open foot if you have one.
* Scissors for cutting paper and cloth.
* Favorite stuffing tools (if you have them). Hemostats will be provided for your use.
* Straight pins.
* Your close-up glasses if you need them.
* Clothing fabrics and thread to match (not needed until day 3 but feel free to bring in to 'audition' anytime if you wish).
* Buttons, beads, ribbon and other embellishments.
* Chair if you are planning to make a seated doll.
What Charlie will supply (covered by the materials fee)
Fabric for the face and hands and body in several shades
Basic yarns for hair (can be augmented by students if they wish)
Polyester stuffing
Needles for hand sewing
Thread for hand sewing
Hemostats for use (available for sale, optional)
Use of pens and pencils for face detail
| | |
| --- | --- |
| Skill Level: | Beginner |
| Skill Details: | |
| Instructor: | Charlie Patricolo |