ACC Customer Quilt Show Ending This Weekend

Come look at the quilts. They're stunning! You get one free vote for your very favorite quilt and a free vote for your favorite "first quilt." Beyond that, you can make donations to MANNA FoodBank in any amount toward any quilt or quilts. We traditionally have raised several thousand dollars each year. Last year, we surpassed the $20,000 mark in donations to MANNA. Due to the food bank's efficiency, that's more than 60,000 meals our generous customers have donated locally! The quilts that earn the most money for MANNA get the biggest prizes, including sewing machines! Voting for yourself and getting your friends and family to come in or call in a donation is encouraged.

We're also collecting non-perishable food and non-food items such as paper products, cleaning supplies, and health and beauty aids, so clean out your cabinets and bring those here, too. Plant an extra row in your garden this year for the hungry. If you end up with extra fruits and veggies, remember MANNA takes these donations at their warehouse on Swannanoa River Road.

The show runs through this Saturday, June 9 here at the store, so come in this week to vote.


Only TWO Spots Available!
During the two-day Academy, Bernina Educator Mary Beck will show students how to successfully sew challenging fabrics such as leather, fur, chiffon, cork, knit and more. You'll learn seam and hem finishes and discover ways to make sewing easier using proper feet, stitches and features of Bernina machines for precise sewing. You'll actually make a Technique Notebook full of samples (and instructions) to take home with you.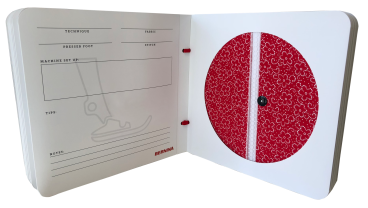 Bernina Academy will be held Friday and Saturday, June 15 and 16, 9am - 3pm. The cost for the two-day Academy is $199, including your Technique Notebook, all fabrics and supplies needed, a collectible Bernina USB stick with lots of sewing tips and free patterns and your tuition fee. Lunch for both days is also included in the price. When you "graduate" from the Academy on Saturday, we'll give you a $50 gift card back, or if you decide to purchase an Academy machine, we'll take the full $199 off our already discounted party pricing! If you already own a Bernina 590, 790 Plus, or 880 Plus, bring your machine and share your excitement with someone else. We'll be sitting two people per machine. No matter your skill level or what machine you own, this event is sure to re-kindle your love of sewing and give you great tips and techniques.

Since registration for this event is limited to just ten machines, please register here or give us a call as soon as possible. If the online registration says the Academy is full, go ahead and add yourself to the waitlist. We are firming up the enrollment list, and there's a good possibility we can add you in if you're on the waitlist.


Instant Savings $100 to $1000 off!


Plus, purchase a Bernina sewing machine and get a bonus reward scratch card to win one of seven bonus rewards! Rewards include Bernina Designer Embroidery Software, Bernina Embroidery Module, Toolbox Bundle, Machine Suitcase, Bernina Gold Plated 125th Anniversary Foot, Accessory Bag, or Double Your Instant Savings. Hurry, ends Monday, June 18.

All Bernina Presser Feet and Hoops, 25% Off!
Ends Monday, June 18

60 Months Interest-Free Financing on $3000+!
See store for details. Hurry, Sale and special financing end Monday, June 18.


Destiny 2 June Special
During the month of June, purchase a Baby Lock Destiny 2, and get a $400 Visa gift card rebate! You'll love all the great features of this machine, including the built-in camera and scanner to create your own embroidery designs!
Baby Lock Serger Specials

During June, purchase a Baby Lock Evolution or Triumph ON SALE and receive a matching Koala Sewing Station! This beautiful piece of furniture is just the right height and size to fit your new serger. If you are interested in sewing clothing or home furnishings, you really need a good serger.
Come in and test drive a Baby Lock serger with NO TENSION HEADACHES, and AUTOMATIC THREADING! It's really quite amazing.
Janome Employee Pricing Event!

This month, you pay what store employees pay! Discounts on every Janome machine, including the new MC6700P professional machine, the MC9400 with an incredible 11" throat space, the Skyline S9 with over-the-top features, and more. Come on in today and we'll help you find the right machine for you.


Only TWO Spots Available!
Intro to "Heat Set" Machine Applique with Grace Errea Class. We're excited to have Grace come teach here in North Carolina. Learn an applique technique so new and revolutionary, you'll use nothing else once you try it! It is easy, foolproof and the results are always amazing. This technique leaves the quilt and the fabric soft and manageable, not stiff and board-like as fusible webs and glues do. The best however, is that you can do raw edge applique without any fraying edges!! This technique produces a no-fray raw edge applique as a result. You will be amazed and love the process and the results! and will never go back to fusing, gluing, or pinning and stitching with nylon thread, ever again. In addition, participants will learn about the Value of using Value in their textile work. There are only two spots left in this class, so be sure to sign up here or give us a call. If there is a "waitlist" button showing, go ahead and add yourself to the waitlist in case a spot opens up.
Thanks, have a great day, and see you soon!
Robin Culbertson
Asheville Cotton Co.
1378 Hendersonville Road - B
Asheville, NC 28803
828-277-4100
M-Sat 10a-5:30p

www.ashevillecottonco.com
Follow us on FaceBook!


Driving Directions: We are located in the Fresh Market Shopping Center behind Starbucks on Hendersonville Road. See complete directions at www.ashevillecottonco.com.
PLEASE DO NOT REPLY TO THIS EMAIL! It is not monitored. If you'd like to be removed from our email list, please click on the link below. Be sure to use the email address that you used to sign up with if it's forwarding to your current email address.
If you have any trouble, just give us a call at 828-277-4100.
I'm so very sorry the unsubscribe button wasn't working recently for some reason. Here it is again if you need it. If you have trouble, please call us!